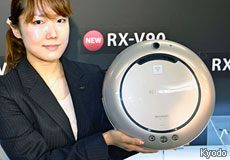 Sharp Corp. announced today that it will release a new updated model of its Cocorobo home cleaning robot with a very important added feature: smarts. Sharp has added the ability for this new model to adjust the amount of suction on an as-needed basis – dramatically improving battery performance for longer operation on a single charge.
See more about this smarter robot – a category that some think is "the next big thing" in electronics…
Sharp says this new robot vacuum cleaner is really smart. It will be able to sense how dirty your carpet or floors in your room are – and adjust the suction level accordingly. If the room is generally clean (then why are you vacuuming?) it will lower the strength of suction – dramatically improving run time. In fact, the company says users could have as much as 60% longer run time.
The company also says that the Cocorobo can clean an average-size, four-room home (that's average-size room in Japan, by the way) in about 100 continuous minutes. The current model, by way of contrast, can only run 60-minutes continuously before requiring another charge – so this is a big advantage for the new version.
Dynamic suction works both ways…
Sharp also says the dynamically adjusting suction power works in reverse as well – that is to say, it can pump up the suction power if your room is particularly dirty. Here again, suction power can be ramped up by 60%. Yes, this will cut into battery time…but you end up with a cleaner room.
According to the company, this is the only robot vacuum cleaner on the market with this smart capability.
Cocorobo is just 30.4cm (11.9-inches) in diameter so that it can clean around – and under – most chairs. Sharp is projecting the price at ¥90,000 ($940) and plans on producing 4,000 units per month for sale in Japan. There was no comment in the report on whether the company plans to export the product to other markets around the world such as the U.S.