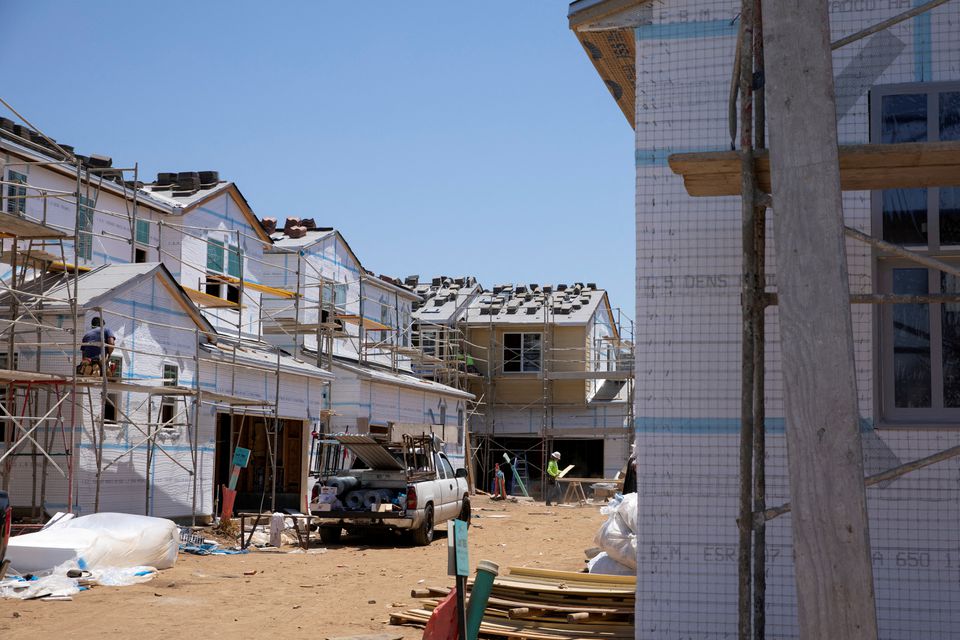 The latest data released by the U.S. Census Bureau and the U.S. Department of Housing and Urban Development jointly show that housing starts – a measure of residential construction activity – continue its downward spiral, dropping in September to a rate of 1.4 million units, below economists' forecast. Single-family housing starts hit their lowest level in more than two years as a slowing economy and sky-high mortgage rates depress demand for housing.
See the latest housing market data…
The troubled housing market continues to throw off data that defines its dramatic decline. Over the two years of COVID – 2020 and 2021 – housing was flying high. But now a combination of high inflation and the highest mortgage rates in 20 years have made homes the most unaffordable they've been since the start of the pandemic.
Overall housing starts have dropped to 1.439 million units in September, -8.1% below the revised rate of 1.556 million units in August and -7.7% below the September 2021 rate of 1.559 million units. This was the second-lowest rate recorded this year in a progression that shows no signs of slowing. Economists polled by Reuters News Agency had forecast that September starts would come in at a rate of 1.475 million.
Single-Family Starts at Lowest Level in More Than Two Years
Single-family housing starts, the statistic that I think is a more accurate metric of potential business activity for the custom integration industry, also declined, coming in at 892k units in September. This rate is -4.7% below the revised August rate of 936k units and an eye-popping -18.5% down from the September 2021 rate of 1.1 million units. Single-family housing starts are at their lowest rate in more than two years since May 2020.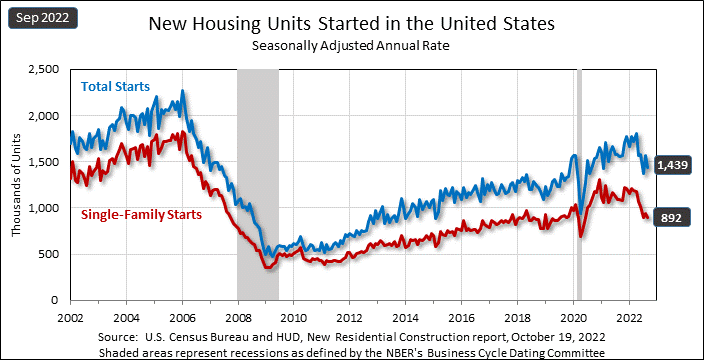 We expect starts to moderate further in (the fourth quarter) to … 1.420 million from 1.461 million in the third quarter. The risk, however, is for a slower pace of starts, given the weak handoff at the end of Q3 and pessimism among homebuilders who are seeing buyers retreat to the sidelines at a time when they continue to face elevated cost pressures.

Nancy Vanden Houten, Lead U.S. economist at Oxford Economics as told to Reuters
A Multitude of Variables Contribute to This Result
A multitude of variables has combined to depress all housing demand, both new homes and existing homes. Certainly, raw materials costs remain painfully high as a result of multi-year supply chain shortages, home prices are starting to decline but are still at historical highs, mortgage rates at a nearly 7% rate for a 30-year fixed rate mortgage has raised monthly payments higher by hundreds or thousands of dollars in just a matter of months. And as the Federal Reserve Board continues to fight inflation it is certain that interest rates will continue to climb through 2023 – further impacting affordability and consumer demand.
With the drop-off in demand for single-family homes, many people are moving into the rental market driving up demand there. As a result, for 2022 multi-family construction starts – projects for buildings of 5 units or more – has fared better than single-family home construction. Although this metric too dropped in September, by -13.1% to 530k units versus 610k units started in August. However, for the year, multi-family projects have increased substantially as folks who can no longer afford to buy a home are moving into rental units.
While single-unit starts have collapsed under the weight of higher mortgage rates, rental demand continues to be very strong. Double-digit rent increases create a strong incentive to build more multi-family units, even as financing costs have risen.

Reuters News Agency quoting analysts at Jeffries
Results Broken Down by Region
Looking at results on a regional basis, all regions except the West reported declining overall starts – Northeast (-12.5%), Midwest (-2.7%), and South (-13.7%). The West region had a 4.5% increase in starts.
Similarly, all regions except the South reported declines in single-family housing starts – Northeast (-6.5%), Midwest (-13.8%), and West (-15.8%). The South region saw single-family starts grow by 2.5%.
Permits issued for overall starts increased by 1.4% over August to 1.564 million units. However, this rate is 3.2% below the rate of permits issued in September 2021. Single-family permits issued dropped to 872k units or 3.1% below the August rate of 900k.