Savant Systems, LLC said today that it has launched a new Wi-Fi-based universal remote control designed with today's media room in mind. The sleek designed remote is said to fit well in your hand and is designed to be intuitive to operate…even in a multiple sub-system set-up. Even better, when connected to a Savant control ecosystem, the remote fully configures itself – eliminating the need for complex programming routines.
See more on this exciting new universal remote from Savant…
Savant says that their new universal remote control is fully conversant with multiple devices in sophisticated systems such as distributed audio, lighting, climate control and more. To assist users in operation, the Savant remote features a 1.7-inch color LCD display.
Since the unit is based on Wi-Fi, users don't have to fiddle with "aiming" the remote at the screen – line-of-sight is not needed with this technology.
"Wi-Fi is the worldwide standard for residential and commercial wireless networking, and this new remote will affordably deliver the control capabilities our customers want by leveraging the network that already exists in their home or business," said Jim Carroll, Savant's Executive Vice President of Corporate Strategy and Business Development in a prepared statement.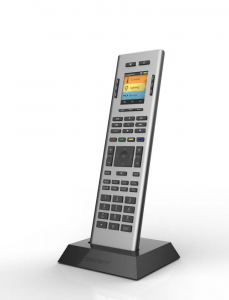 The color LCD display is customizable and works seamlessly with included hard buttons for frequently used functions. Also, the remote is easily usable in your home theater as it includes back-lighting on the buttons for easy identification.
Savant's new universal remote control has two-way feedback from supported devices and transport buttons allowing users to navigate its TrueCommand on-screen navigation technology. When incorporated in a Savant control ecosystem, the remote is capable of two-way Wi-Fi communication, giving users control of intelligent devices and subsystems from anywhere in the home.
The Savant Universal Remote Control will be available October 10, 2013 at an MSRP of $499 including the charging dock.
For more information, see: www.savantsystems.com.