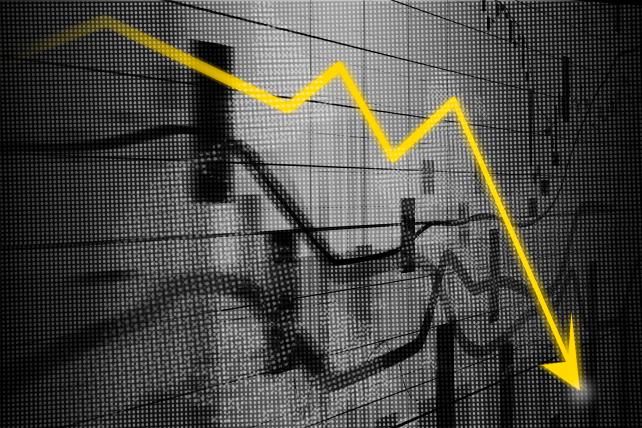 In new economic data released by the government today, the real gross domestic product (GDP) for the second quarter of 2020 declined an astonishing 32.9%, the worst ever such reading in recorded history. This result follows a decline of 5% in the first quarter and demarks a deep and painful recession resulting from the impact of the COVID-19 pandemic engulfing the United States, and the world.
Learn more about this stunning GDP crash…
The data released this morning by the government's Bureau of Economic Analysis is what as known as an "advance" estimate. This estimate is subject to revision, but should be fairly close to the final result.
Of course, most economists were expecting a decline in GDP, as the second quarter is the time period when almost the entire country was in a stay-at-home lockdown while the U.S. was trying to stave off the COVID-19 pandemic. Still, the depth and severity of this decline is stunning nonetheless….as it is a level of decline never before seen in this country, in records dating back to 1947.
More Than 3 Times Worse Than Previous Worst
Before last quarters GDP drop of 32.9%, the previous worst-ever economic drop according to the Associated Press was a drop of 10% all the way back in 1958. As the AP notes, this was during the Eisenhower administration.
As economists over the last couple of weeks began to get a sense of just how big the drop might be, many began suggesting that there would likely be a huge jump, a bounce-back so-to-speak, as the economy should rebound in the third quarter…the months of July-September. But that bounce-back may be in jeopardy now, as states who opened up their economy too quickly have now seen a significant resurgence of COVID-19 forcing new shutdowns of businesses.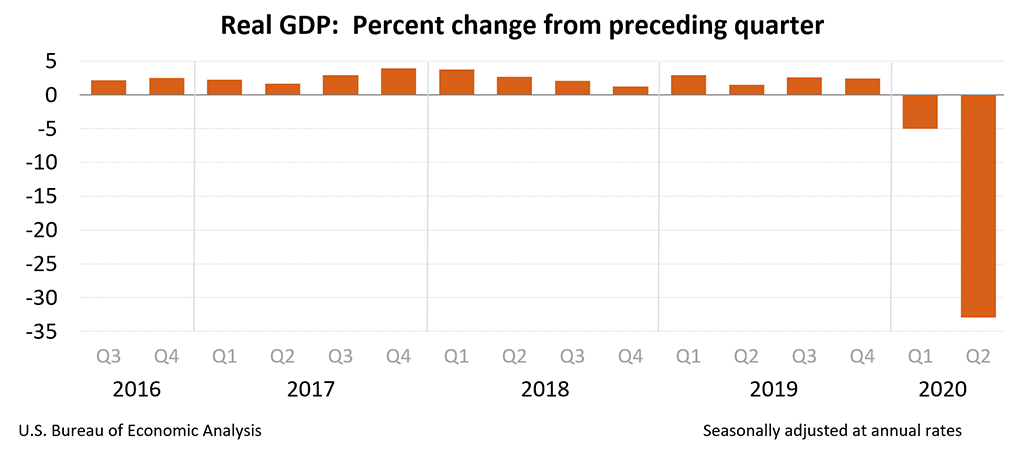 19 Weeks of Million+ Unemployment Claims in a Row
Other data suggests that economic stagnation may be at risk of setting in. For example, last week the government reported 1.4 million Americans applied for unemployment benefits. As the AP notes, this was the 19th consecutive week that more than 1 million Americans have had to apply for such aid. Before COVID-19, that number had never exceeded 700,000 in any one week – even during the Great Recession.
Beyond those claims, another 830,000 Americans applied for a new unemployment benefit created for those who are self-employed and/or gig workers. All together, more than 30 million Americans are receiving some form of government assistance. Congress is now negotiating an extension of this aid, and some in Congress seek to cut back the assistance to the unemployed.
Headed for a Double-Dip Recession?
A poorly managed health situation and depressed incomes means the economy risks a double-dip recession without urgent fiscal aid. Fiscal aid is a must pass. Withough further fiscal assistance, many households across the country are going to be left without much of an income stream and will react by severly cutting back on spending.

"The economy is going to be running on very little fuel at a point when the recovery has really stalled."

Gregory Daco, Chief U.S. economist at Oxford Economics in an AP interview
Putting a finer point on their data, it is clear that consumers dramatically cut spending – cutting nearly 25% off of the Q2 total, with the bulk of that hitting services such as restaurants, bars, etc. At the same time, the consumer savings rate lept to 25.7% in the second quarter, after growing to 9.5% in the first quarter. Clearly, with future income unpredictable, consumers are hanging on to whatever they get to help them ride out the storm.
Will the economists' predicted bounce in Q3 be a real recovery? Or will it be a temporary blip on a longer recovery horizon? Share your thoughts in the comments below…