Planar Systems, Inc. announced today that it has agreed to be acquired by Leyard Optoelectronic Co., Ltd., a leading Chinese provider of fine pitch LED video wall systems. Leyard will purchase all outstanding shares of Planar stock paying $6.58 per share, valuing the deal at $156.8 million. This represents a 42% premium over the value of the stock at closing before the deal was announced.
See more on this Leyard and this deal…
Planar, a leading provider of digital display solutions including video walls, touts the deal in an SEC filing as one which will offer customers a "more robust product portfolio" across a variety of technologies and with "innovation in every function that our customers will value." While there appears to be considerable crossover in business segments, there are also distinctions.
In particular, Leyard appears to have considerable focus in large-scale displays used in everything  stadiums and event centers, the NBC Sports Super Bowl set, the Houston Rockets scoreboard and even had their displays featured at the Beijing Olympic games in a stunning visual presentation.
Business Sense More Than Product Sense
For its part, Leyard seems to be attracted by more business synergy rather than product synergy. Victor Li, CEO and Chairman of Leyard is quoted as saying, "Leyard was attracted to Planar's strong sales channel, brand presence, product innovation and organizational capabilities, and we felt it a perfect complement to what we have built over the past 20 years."

Specifically, Leyard may be looking to further develop the North American market for its products through this partnership, as well as in other markets outside China. Planar's distribution and sales network could be an attractive part of this deal.
Similarly Sized Companies
Interestingly, the two companies are approximately equal in size, at least in terms of sales with Leyard's revenues in 2014 at $197 million and profits of $27 million. Similarly, Planar had 2014 sales of $179 million and profits of $3.8 million.
However, in reporting their most recent quarter, Planar saw sales decline to $42.5 million, or 3% below the $43.9 million in the quarter a year earlier. More significantly, the company had a net loss of $293,000 versus a profit last year of $706,000.
We could find no mention anywhere in any of the materials released by the companies of what this deal means for Planar's Runco line, which it acquired a few years ago.
Letter to Dealers
Planar released a letter to its North American dealers addressing key aspects of this new announcement.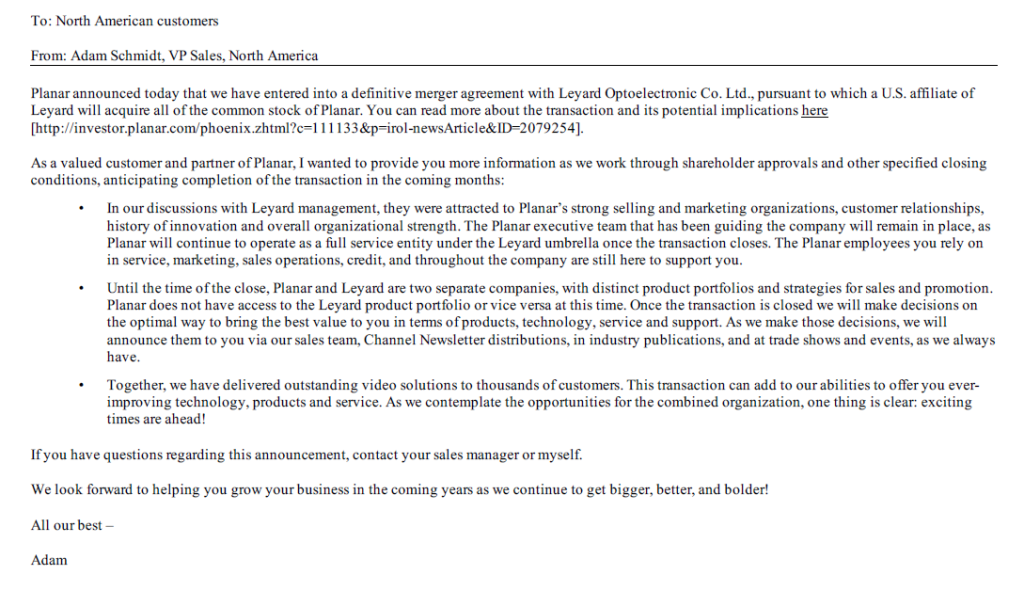 Until the deal closes, both companies will continue to operate as separate entities. And this acquisition is subject to regulatory approval as well as approval from the shareholders of both companies. The Planar board recommends its shareholders approve this deal.
Both parties expect the deal to close by the fourth quarter of this year.
For more on Planar, see: www.planar.com.
And to learn more about Leyard and its products, see: www.leyard.com.