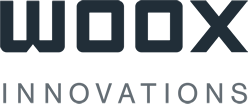 Oops, they did it again (to quote pop icon Brittney Spears) – Gibson Brands has acquired WOOX Innovations, a Singapore-based brand of accessory products, from owner Royal Philips, N.V., according to an announcement from Philips earlier this week. Another in a line of acquisitions in the consumer electronics space by Gibson, WOOX brings in a complementary line of products and international distribution into its portfolio. This is the second attempt to sell the division by Philips, who had a deal with Funai fall through late last year, resulting in legal action.
See more on this deal, including what it means for both companies…
In many respects, Philip's decision to unload this accessory division is consistent with a strategy they began a few years ago to shift their business focus away from consumer electronics and into other tech areas. A powerful force in personal electronics, such as shavers and trimmers, Philips has decided to expand into new, growing (and more profitable) product segments such as medical- and health-related technologies.
Back in 2008, Philips made the decision to stop marketing TVs in the United States and, instead, chose to license the Philips and Magnavox brand names to large Japanese OEM TV manufacturer Funai. Since that time, these products are designed, built and distributed by Funai who pays Philips a licensing fee for every unit sold. This agreement was extended last year for another two years through 2015.
Funai effort failed…
The decision to sell WOOX to Gibson resulted from a failed effort to have Funai take over the accessory line in addition to their separate TV deal. When that deal fell through last year, Philips sought other potential buyers, resulting in this new deal with Gibson.
"With this transaction, we are taking another important step in Philips' transformation to become a leading technology company in health and well-being," said Philips CEO Frans van Houton in a prepared statement. "Philips and Gibson Brands have played significant roles in shaping the home entertainment and music industries and with this agreement the Philips brand will continue to be associated with innovative products in this space."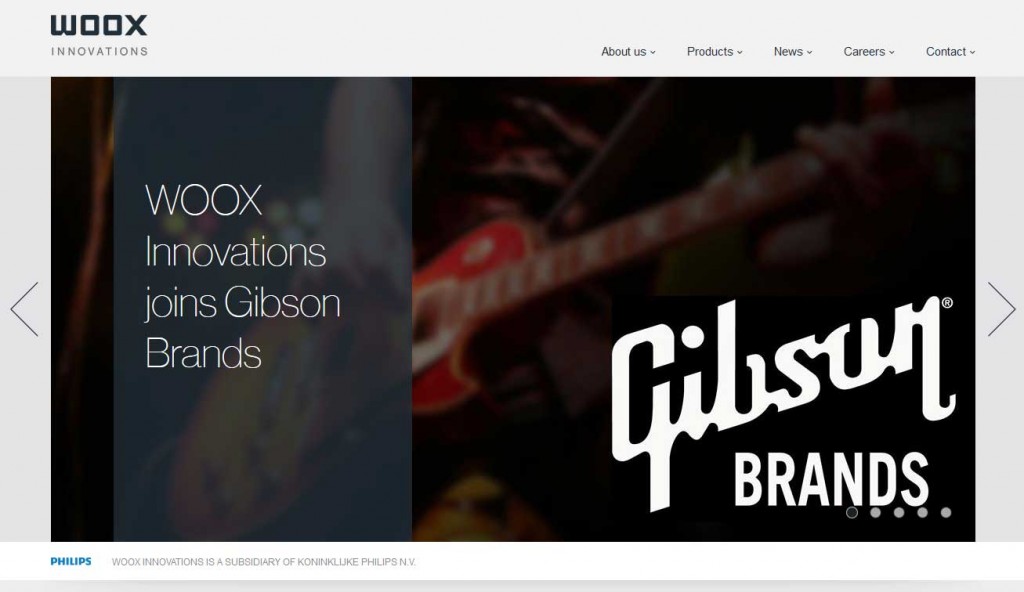 Gibson continues CE expansion…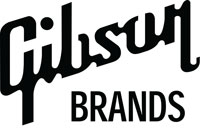 Gibson Brands (formerly Gibson Guitar) began a concerted effort to expand their business into the consumer electronics business  – which seems somewhat ironic in view of Philips' decision to exit CE. As part of this plan, in 2012 Gibson made a significant investment in Onkyo Corp. – including taking a majority share of Onkyo's USA's business – going on to purchase a majority stake in Teac/TASCAM in 2013.
In the case of WOOX, one of the primary motivations for Gibson appears to be distribution. WOOX's market strength is centered largely in overseas markets such as Europe, China, and Latin America. Gibson, thanks largely to their new Japanese partners, finds their primary market strength in the U.S. and Japan.
"This agreement is the most significant step yet in Gibson Brands' journey to become the largest music and sound technology company in the world," Gibson Brands Chairman and CEO Henry Juszkiewicz said in the same prepared statement. "By acquiring Philips' audio and home entertainment business, our goal is to continue to provide the most exceptional consumer audio products and experiences in the world. I am thrilled to extend the reach of Gibson Brands around the world and to welcome this great team to the Gibson family."
Gibson's investment…
Gibson paid $135 million for WOOX – a bargain price, some would say. They also signed a 7-year licensing agreement with Philips – the terms of which were not disclosed.
This is a second try for Philips to unload WOOX. Early last year, they had signed an agreement with Funai – their TV licensing partner – to take over WOOX. The deal with Funai was signed in January and expected to close sometime in the second half of 2013. Then, in October, Philips announced that the deal was off due to a failure to close on the agreement by Funai…and that the company would seek legal redress for unspecified losses incurred.
Deal with Funai fell apart in due diligence…
Sources tell us that during the due diligence process, WOOX was impacted by negative changes to its business. Funai, we are told, sought to renegotiate the purchase price in the wake of these negative changes, but Philips was unwilling to do so.
From what we've learned, Gibson is getting a better deal as Philips was apparently highly motivated to move the division off their books. In addition to the expanded distribution, Gibson also gains access to a line of wireless speakers…although it's not known how successful that line was for Philips.
WOOX Innovations, according to a report on broadbandtvnews.com that appeared last year, is said to have over 2,000 employees worldwide and revenues of EUR 1.2 billion (US $1.7 billion at today's exchange rate.)
See more on WOOX Innovations, here: www.woox.com.