<May 16, 2012> Late last week Nortek Inc. released the results of its fiscal first quarter or the period that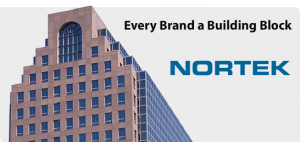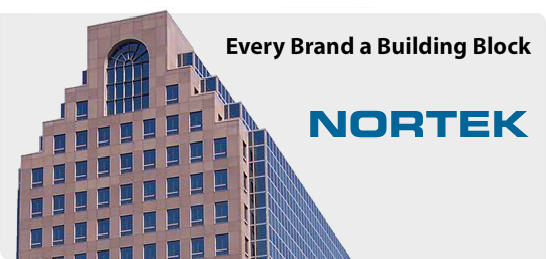 ended March 31, 2012. Nortek – parent company to venerable industry brands such as Niles Audio, Speakercraft, Xantech, Elan, and more – showed a 7% sales increase in the quarter to $522.8 million as compared to $488.6 million in the year before. And while the company continued to book a net loss in the first quarter, it clearly showed solid improvement in several areas…including a dramatically reduced net loss of $1.2 million as compared to the same quarter last year when the net loss was $21.1 million.
Nortek was able to reduce several key aspects of their cost structure helping drive their profit margin. Cost of Goods Sold was 74% of sales last year…this year, it came down to 72% of sales. Selling, General, and Administrative costs (SG&A), dropped from last year's $113.2 million to $110.1 this year. Even amortization of intangible assets dropped $900,000. This all combined to drive operating earnings to $24.9 million…well over last year's $1.9 million.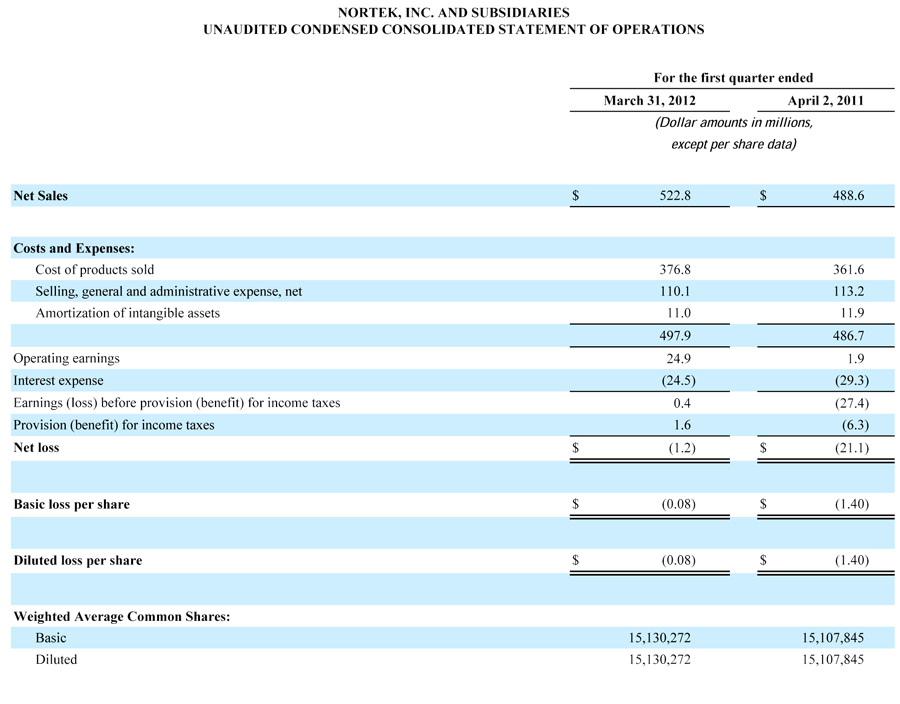 Sales Story…
When looking at the sales growth by segment, it is easy to see that the company continues to struggle with a sluggish residential construction market. While their residential ventilation products category stayed relatively flat, the residential HVAC segment sales declined 9.46% from last year's $83.5 million to this year's $75.6 million.
The TECH segment showed sales for the quarter coming in at $160.8 million, this is $3.5 million or 2.23% over last year's $157.3 million. However, most of this growth came from acquisitions which the company says added $4.7 million in net sales for the quarter. Since new acquisitions accounted for more than the total sales growth, Nortek's other TECH division brands apparently – on average – saw their sales decline or stagnate for the quarter.
Star of the show…
The biggest contributor to sales growth came from the commercial HVAC segment which saw sales jump to $134.6 million in the quarter. This is 39% over last year's sales of $97 million and the company attributes the growth to the continued roll out of a popular line of new products environmental products targeted for commercial installations.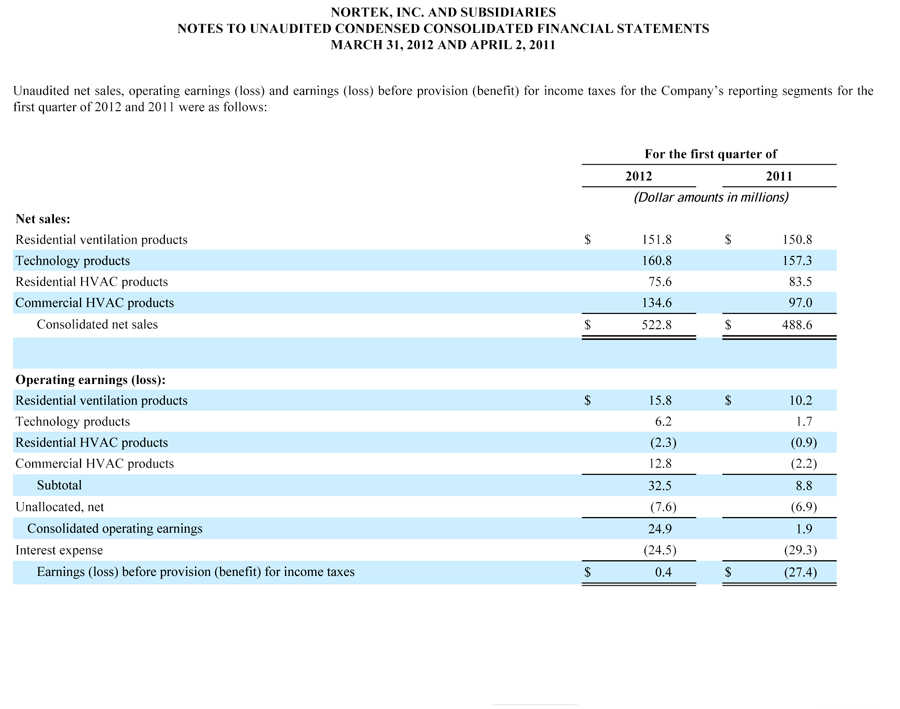 Given the overall financial performance, it is easy to see why Nortek management was upbeat.
"Nortek delivered improved results on both the top and bottom lines in the first quarter of 2012, driven primarily by growth in our Commercial HVAC segment," President and Chief Executive Officer Michael J. Clarke said in a prepared statement. "At the same time, we continued to strengthen our operations, improve our cash conversion cycle and reduce our debt, while making progress in strategically positioning Nortek for profitable long-term growth."
Challenges continue…
As good as the report was, it is clear that the company continues to face challenges. For example, while the net loss for the first quarter clearly improved over last year's loss for the same period, it was still higher than the net loss in the fourth quarter of the year – known in the financial community as the sequential performance. Last quarter's loss of $800K was 50% less than the first quarter's loss of $1.2 million.
While the company feels it is well positioned for a residential construction come-back – what if housing doesn't come back? Housing starts, announced today, showed improvement…but permits – an indicator of future construction, declined. So the residential construction sluggishness still weighs heavily on Nortek.
Looking ahead…
"Looking ahead to the balance of 2012, we expect activity in the residential and nonresidential construction markets to be up slightly from the levels experience in 20121," Clarke said. "Although the headwinds that have affected our markets for the past few years seem to be easing, the environment remains far from robust. Nonetheless, we believe the improved performance of our business positions Nortek not only to continue succeeding in the current demand environment,k but also to deliver accelerated growth in sales and margins when construction, repair and remodeling activity finally rebounds on a sustainable basis."
In a conference call with Wall Street analysts, Clarke admitted that Nortek "still sees lots of  mixed signals in terms of [economic] trends." Recently, apparently, the company appears to be slightly more optimistic about the economy.
TECH sector's story…
However, in discussing the TECH sector, Clarke seemed to choose his words a little more carefully. Saying he has been traveling around to the company's various facilities, Clarke noted to analysts that he was still evaluating overall operations.
In TECH, the company said there was a charge to earning of $2.6 million relating to the "discontinuation of development of a certain new product in the TECH sector."  However, they did specify what that comment specifically related to in terms of product, or even brand.
New leaders and new products…
"In our TECH segment, we have some new key leaders in place," Clarke noted enthusiastically. "They're each looking to streamline our procurement, manufacturing, distribution processes – while as a group, we're reviewing our product offerings for redundancies and focusing our R&D."
Clarke added,  "We're also launching some new great product lines." Clarke went on to highlight the Elan-G which "offers a solution in the entertainment and home control in one seamless and easy to use system."
A new discipline…
Clearly, Nortek is applying a new discipline to their operations. Up until recently, many of Nortek's acquisitions were allowed to operate independently of each other. While this appeared to allow them to hit their goals in a more robust economy – the industry slowdown has caused the inefficiencies inherent in such a structure to become untenable.
In short, while the company has shown progress in reorganizing operations – more change is clearly coming. Clarke expressed confidence in Nortek's fundamentals saying, "I feel pretty confident about this business moving forward."
Still, he still sees opportunity to better leverage the company's various businesses to drive "the economy of scale."