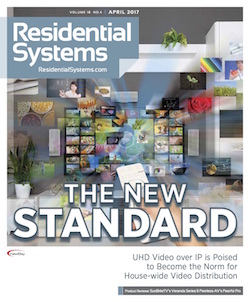 When it comes to sophisticated AV system installations, integrators have been forced to choose from a panoply of incompatible, proprietary matrix systems from a group of control manufacturers. These systems are complex and require specific programming protocols unique to them.
Then, at this year's ISE, everything changed…
See how UHD over IP is rapidly emerging as the new standard in CI video distribution…
A comprehensive article by Strata-gee editor Ted Green on new UHD over IP solutions is the cover story of this month's issue of Residential Systems, In it, we learn about the two primary standards for UHD over IP – or, if you prefer, AV over IP – networking solutions.
The topic was thrust to the fore at the recent ISE 2017, when several brands launched new UHD over IP solutions…and a new organization – the Software-Defined Video over Ethernet (SDVoE) alliance was born. It is clear that – thanks to advances in chipsets, processing, software, and user preferences – the industry will rapidly move away from proprietary matrix solutions of the past – to open IP-based solutions that can reliably deliver 4K Ultra High Definition video anywhere in the home.
Check out Green's article: UHD over IP: The New Standard at residentialsystems.com.