Dirac, a fast growing provider of room acoustics management software, announced today that it will launch Dirac Live Bass Management at next month's CEDIA Expo 2019. Industry attendees at Expo can see the new system in Booth #3235 in the Colorado Convention Center.
What's the big deal about Dirac Live Bass Management? Read on…
Dirac has already made a splash in room acoustics adjustment with their unique Dirac Live system which includes both highly precise frequency and timing adjustments to optimize a system's output based on the acoustics of the room. Live Bass Management is a specially optimized modular add-on to the Dirac Live software that focuses its attention on the critical low or bass frequencies which can be dramatically impacted by room acoustics.
As most pros know, low frequency sound waves can bounce around a hard-wall room creating all types of peaks and valleys in reproduction that can dramatically degrade the sound quality. According to the compoany's statement, their new Live Bass Management "…measures and phase corrects a home theater's speakers and subwoofers across all frequencies, even in multiple subwoofer systems, to produce enhanced bass clarity and improved bass tone evenness throughout the room."
"Even the most high-end hardware possesses certain performance deficiencies – ones that can only be resolved through an understanding of the room itself. However, while Dirac Live offered new standards in room correction and speaker phase correction, it left one area – the subwoofer's low-frequency bass tones – unaddressed. The new Dirac Live Bass Management now equips installers and their customers with a tool that addresses this final frontier, moving them one step closer to perfect sound."

Niklas Thorin, Dirac's GM of High Performance Audio
A Big Increase in Adoption
I first wrote about Dirac, then as an emerging company, in an article titled "The Perfect Room" in Residential Systems magazine back in January 2016. Since that time, there has been significant adoption of the Dirac Live system by many manufacturers including, NAD, Harman, Datasat…car makers, such as BMW, Rolls Royce…and phone makers, such as OPPO and Xiaomi.
Thanks to advances in digital technology and digital signal processing, along with some amazing research conducted by engineers associated with the company at Uppsala University in Sweden, it really is quite remarkable what Dirac's system is able to accomplish.
Using Subwoofers to Improve Room Performance
And now this new Live Bass Management add-on taps into that engineering magic, the company says, to aggregate measurement and location data from the subwoofers in the system to decode just exactly how low frequencies are being distributed throughout the room. The system then determines where there are gaps in the sound waves and adjusts the signal to correct for more evenly distributed low-frequency performance.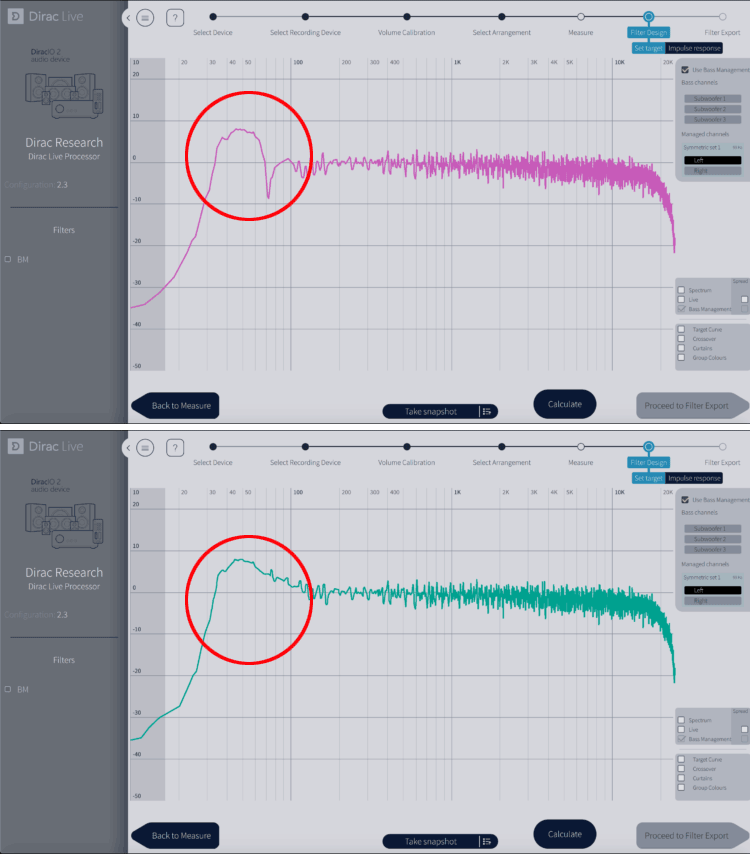 In addition to this, the system also measures and corrects the low-frequency energy from the main speakers so that the bass performance is "in sync with the system."
Versions & Pricing
The Live Bass Management add-on for the Dirac Live system is offered in two versions – a single-sub version for $249 MSRP…and a multi-sub version for $399 MSRP. These are just the first in a new series of modular add-ons for their core Dirac Live system.
The company notes that the recently launched NAD M10 BluOS streaming amplifier and the C658 BluOS streaming DAC will be the first products from NAD featuring Live Bass Management. Customers will be offered their choice of a single-sub or multi-sub version.
Top Brands Add Live Bass Management
In addition to NAD, the company says that StormAudio is also preparing to add Live Bass Management into their full line of processors and amplifiers. Likewise, Arcam and JBL Synthesis are said to be planning to add Live Bass Management to the majority of its AVR products.
Learn more about Dirac by visiting www.dirac.com.