As we made our way to the Colorado Convention Center Wednesday morning, it was a gray, rainy, then drizzly morning. It's a weird experience walking into a huge hall with very few people around – most there to either set up booths or to take educational classes. It was as quiet as a library and depending on where you were in the hall…it could be eerily lonely.
But it's CEDIA's 2014 Expo…so it's time for Press Day, the day before the show officially opens. On this day, the press tries to pick up on the major stories of the show…and get a feel for the atmosphere of the event.
But pre-show buzz was pretty light…see what we discovered…
The first press conference of the day was Origin Acoustics, Jeremy Burkhardt's (and Ed Hasse's and Ken Humphries' – who are Jeremy's not-as-prominent partners) re-entry back into the custom integration business. Beyond that, there was a press preview with a room filled with around 65 companies showing a selection of their wares (or sometimes not showing, only talking) on small-ish draped tables.
There was a Dolby press conference devoted to the launch of Atmos and with a panel of Atmos partners. Finally, Sony US president Mike Fasulo delivered an at times oddly wandering keynote address with the theme "Deliver Innovation. Deliver Sony." The crowd of integrators chuckled when they first heard him say this slogan. Fasulo had to tell the group that it wasn't a joke.
Reality check – it is way to easy to become jaded at events like this for members of the press. This is because we've been inundated with press releases and various and sundry press material in the weeks leading up to the show. There are few surprises.
So like lemmings we march from one press event to another, furiously jotting notes and trying to figure out how to get all the stories written in time to hit our deadlines. We'll say this – although there were few surprises, there were certainly some big themes that will be impactful – for better or for worse – down the road.
So what follows are some of our initial thoughts – with more details to come later:
Origin Acoustics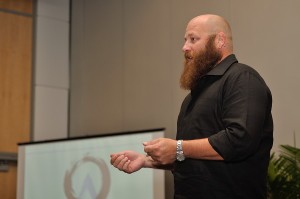 We offered a relatively detailed report on Origin which gives some more detail on what the company is all about. In casual conversation before the press conference started, Burkhardt let us know in his characteristically blunt style that he did not appreciate elements of our report, but we stand by our initial assessment.
The Origin press conference (and we'll provide more details in a separate report later) was pretty much in line with what we've seen from this largely SpeakerCraft retirees club. A lot of flash, a little dazzle, a lot of hyperbole…and, to their credit, what looks to be a fairly decent line of speakers. The Origin product line should be quite competitive and will likely fuel new wars with other major brands as the pie is just not big enough for everybody.
One point that caught our interest – in the original article from Residential Systems' Jeremy Glowacki about Origin, the company talked vaguely about some form of operating partnership with Austin, TX-based Screen Innovations. So we sought clarification asking directly – is Screen Innovations a financial partner in Origin Acoustics. It was then we learned that Screen Innovations is indeed an investor in Origin.
The company is launching a huge number of new products – we were told 60, but some reports place that number as high as 200. Whatever the real number (love the obfuscation), it is large enough to be a really significant investment with a lot of upfront money put in place.
"So in changing the way that we do business – we're launching with more products than any single company…in my last twenty-one years here…has ever come to market with," Burkhardt said at the press conference. "This isn't just a start-up, this is – we're doing it from scratch with everything it takes to replace a current supplier and give you better product and more profit and better service."
It's an open question as to just how many products are actually available at launch, but it certainly is a different style of launch where many start-ups go category-by-category over time. So we can't tell just exactly how much of this is real until the products actually ship to dealers – but we'll continue to watch with interest.
Dolby Labs
The Dolby Labs press conference was an interesting presentation that was clearly geared to those folks who were unaware of just exactly what Dolby Atmos is all about. I'm not sure there was anyone like that in the room of tech industry journalists – but Dolby's Brett Crockett wasn't taking any chances, carefully explaining the basics of what the technology is and how it works. It was a fairly dry presentation delivered in sometimes halting manner by Crockett, who seemed a little nervous to us.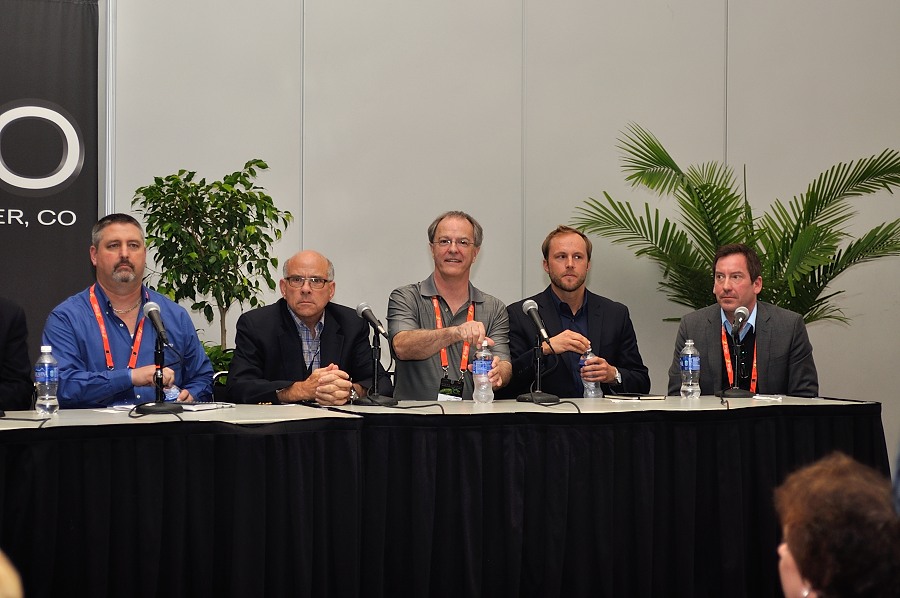 After Crokett's presentation, which broke no new ground beyond what we've already reported, the presentation turned into a panel discussion led by Scott Wilkinson of AVS Forum and including several Atmos partners including execs from Onkyo, Denon/Marantz, Pioneer, Definitive Tech, a movie sound remixer, and Crockett.
The discussion was very general and not much new territory was breached. We did learn some new (to us at least) details on how Onkyo and Denon/Marantz chose very different paths to Atmos implementation – one providing for upgrading current equipment…the other requiring a clean break with Atmos included in only new models. Onkyo chose the former…Denon/Marantz chose the latter.
Beyond that, it was just a lot of platitudes and Atmos hosannas. Dolby is looking to make this show about Atmos.
Press Preview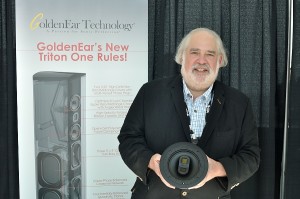 The press preview can be kind of fun because you get an odd collection of new models from established companies…and all new companies. Some quick observations:
Denon HEOS – Denon appears to be making some real ground here with a wireless multi-room audio system designed to be sold by – and more importantly profitable for – small specialty dealers and integrators.
Epson America – Epson showed a couple of new projectors – was with a laser light source that looks really interesting. It displays a 4K image…but there is some technical pixel-shifting wizardry involved in making that happen. Still, it caught our eye.
TiVo – The folks at TiVo are showing a new monster device, they call it Mega with incredible specs that will sell for something like $5,000 in the first half of next year. They profess strong loyalty to the CEDIA market – and they're probably going to need us to sell this beast.
Metra Electronics – Better known for their 12-volt car audio business, Metra is doing some interesting things in the residential market as well. New HDMI 2.0 cables and problem-solving devices could be very useful to integrators.
Revolution Acoustics – A relatively new company offering a panel exciter product that turns any wall into a loudspeaker. We've seen these before but Revolution execs say that they solved some of the key problems of earlier systems. They say, for example, that their line delivers full frequency response with no dead zones or other issues.
GoldenEar – Our good friend Sandy Gross continues to surprise and delight us with new products. At the press preview, Gross showed a new single point stereo speaker, built to GoldenEar's exacting standards. Be sure to see his Atmos demo on the show floor. He promises to convince us that overhead speakers are  the only way to go with Atmos. He's probably right.
Veto Pro Pack – OK…I'm a guy so I'm pretty susceptible to stuff like this. Veto Pro Pack are tool carrying backpacks that seem to be well-thought out, well engineered, and incredibly heavy duty. Most are backpack style and they designed a line that is applicable to tech installers.
Beale Street Audio – Speakers mounted in enclosures that have been designed to deliver full frequency response. A lot of marketing at the show…especially in the registration area. The products looked clever.
Mass Fidelity– A very interesting box that uses a different system to generate sound waves that trick your ear into hearing wide soundstage from a single source. This does NOT involve psycho-acoustics.
Omnimount – An interesting design TV wall mount solution that includes a wall box, incredibly sleek and slim against the wall positioning, and smart organization of power and cables. This is one you should definitely check out.
Finally, we note the return to CEDIA Expo of a couple of important video manufacturers – Sony and LG. In the last few years, many of the core television set manufacturers have pulled out of this show. So much so that we began to hear many complaints from installers and integrators. It's nice to seem them begin to filter back into this event.
Watch for more coverage from CEDIA Expo from Strata-gee.com & the SYNCH!