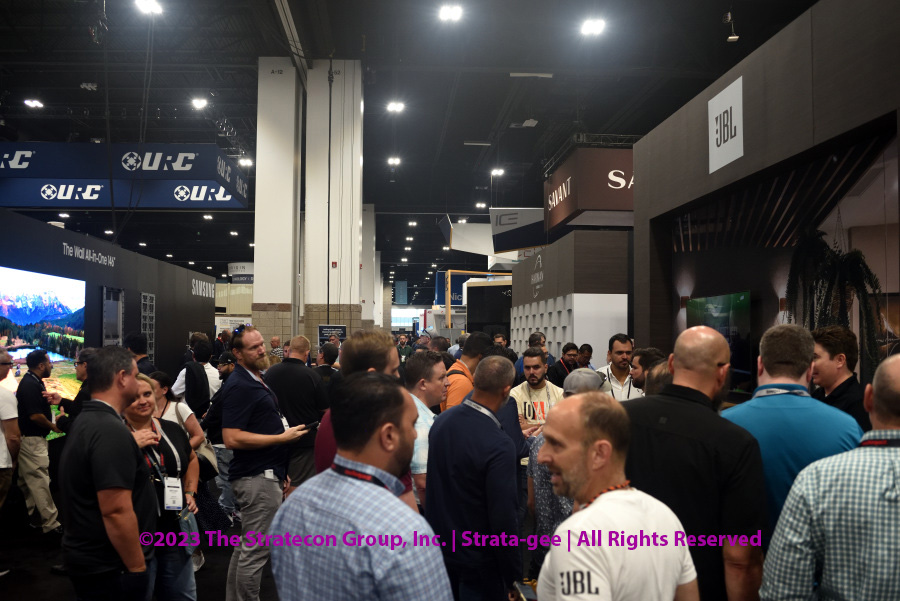 See some of my top picks from CEDIA Expo 23 Day 1
Well, the question I posed yesterday as to whether we'd see CEDIA Expo 2023 attendance up or down as compared to the show last year appears to have been answered. Aisles and booths were filled on Day 1 of the event, suggesting that CEDIA Expo 2023 attendance is not only ahead of last year's numbers…but perhaps well ahead. So it seems we are all on a Rocky Mountain High.
But was there anything interesting to look at on the show floor? See some of the items I found interesting…
See more on Day 1 at CEDIA Expo 2023
I saw several scenes like the one in the photo above – this one taken in the aisle between Samsung and JBL – on Day 1 of the Expo. Not only that but many booths were jammed throughout the better part of the day.
I spoke with several exhibitors around the floor and all were heaving a collective sigh of relief. Not only that, but exhibitors tell me that attendees all seemed quite upbeat and ready to talk serious business.
We'll Cross That Bridge When We Come to It
If we see this replicated on Day 2, then it is a really good sign for the state of the industry and suggests that the fourth quarter may offer us an elegant exit to 2023. As far as 2024, well we'll cross that bridge when we come to it. For now, let's enjoy the ride.
And one person enjoying the ride is Jason McGraw, Emerald's Group VP of CEDIA Expo, Commercial Integrator Expo, and KBIS. I ran into him on the show floor and he readily wore a broad smile. He did NOT say neener…neener…neener to me but rather expressed gratitude for what looks like a show that grew nicely over the last year.
Feels Like the Most Normal Expo Since COVID
It definitely felt like the most normal CEDIA Expo since COVID and exhibitors were in full form showing a wide range of interesting new products worthy of consideration by the attendees this year.
Below, I'll mention a few of the items I saw today that struck me as interesting! Of course, I still have two days to go… NOTE: All of the photos below can be clicked on to enlarge the image.
Interesting Items from CEDIA Expo Day 1
AUDIOCONTROL – Booth #2509 – I got a chance to physically see and touch the new mini-chassis AVRs from AudioControl that I wrote about yesterday. Although these were just samples, it was striking to see the diminutive size that will give integrators great flexibility in expanding home theater sound in more rooms in the house as well as flexibility in where they physically place the device.
SAVANT – Booth #2519 – Savant had several innovations at this year's show. One of my favorites is the ability to use Apple AirTags to trigger personalized Savant Scenes. At the show, they showed how you can use AirTags inconspicuously along a window frame, such that when you tap it with an iPhone the motorized shades move to that exact spot. Neat!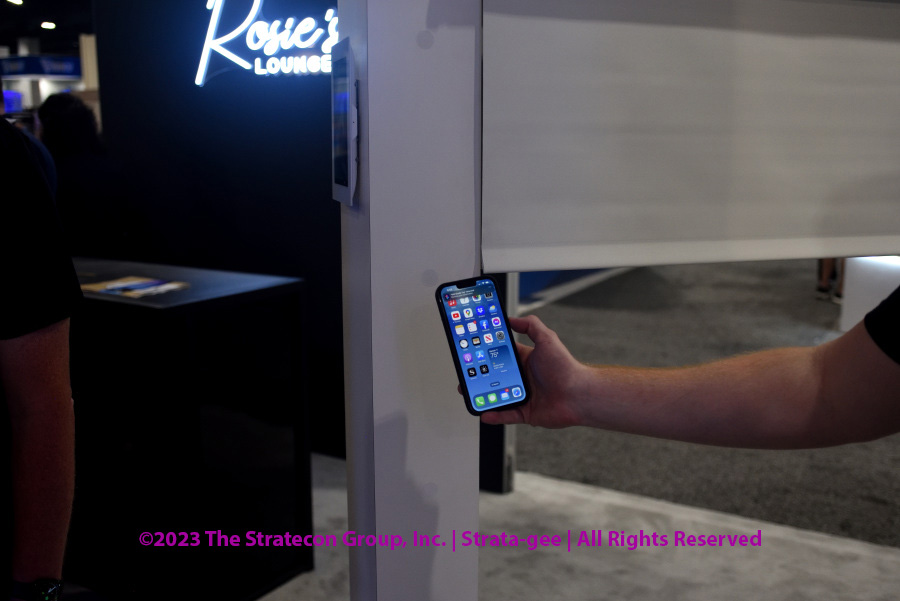 HARMAN LUXURY AUDIO – Booth #2512 – Harman also showed several new items at the show this year. One of my favorites was a new line of Revel PerformaBe in-wall and in-ceiling architectural loudspeakers that can offer your luxury or audiophile clients truly impressive performance. Utilizing their beryllium tweeters with an advanced Acoustic Lens waveguide, you have to really see and hear these things to appreciate them.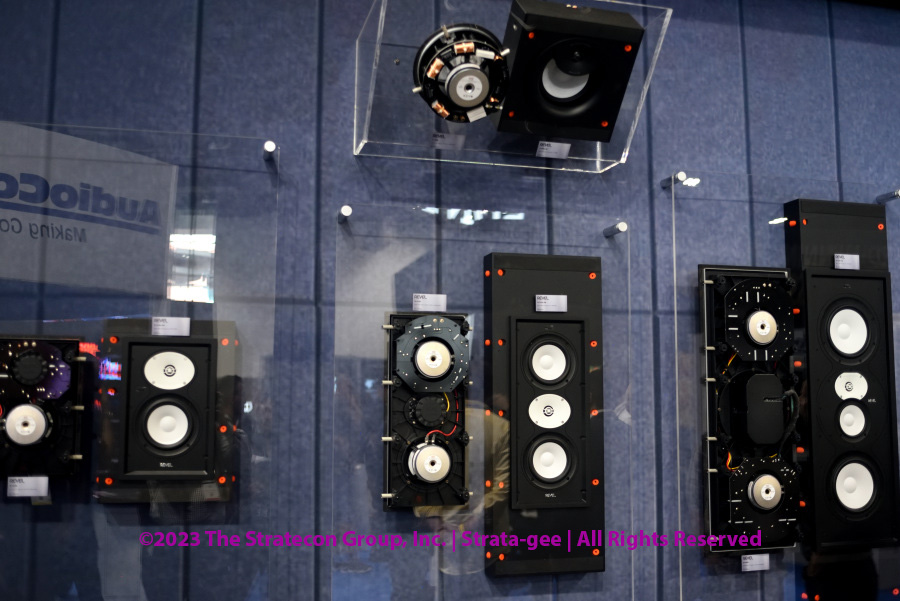 RTI – Booth #3612 – After a period of largely software updates, RTI this year had some juicy new hardware to offer Expo attendees. Maybe because I'm an old audio guy, my favorite was an all-new audio distribution system. This system is intelligently designed and I think RTI dealers are going to like what they see here.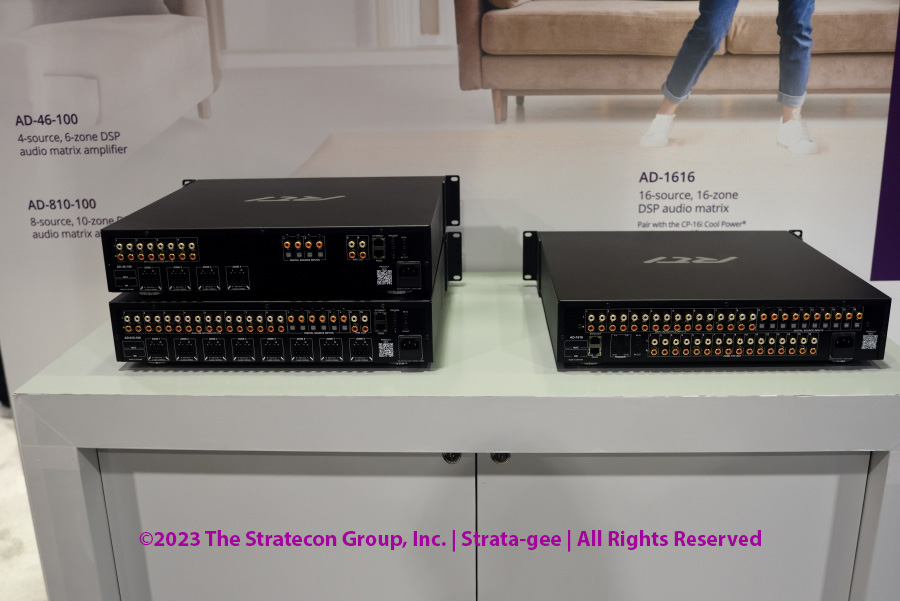 BLACKWIRE – Booth #4304 – This distributor prides itself on offering a higher level of support to their customers and they really hammered that point home with an all-new dealer tool called Blacklight that helps them easily design a lighting system that will be optimized for what they are seeking to achieve. A web-based solution, Blackwire's Seth Johnson demonstrated Blacklight for me and it was incredibly impressive. You know what else is impressive, it's free for their dealers!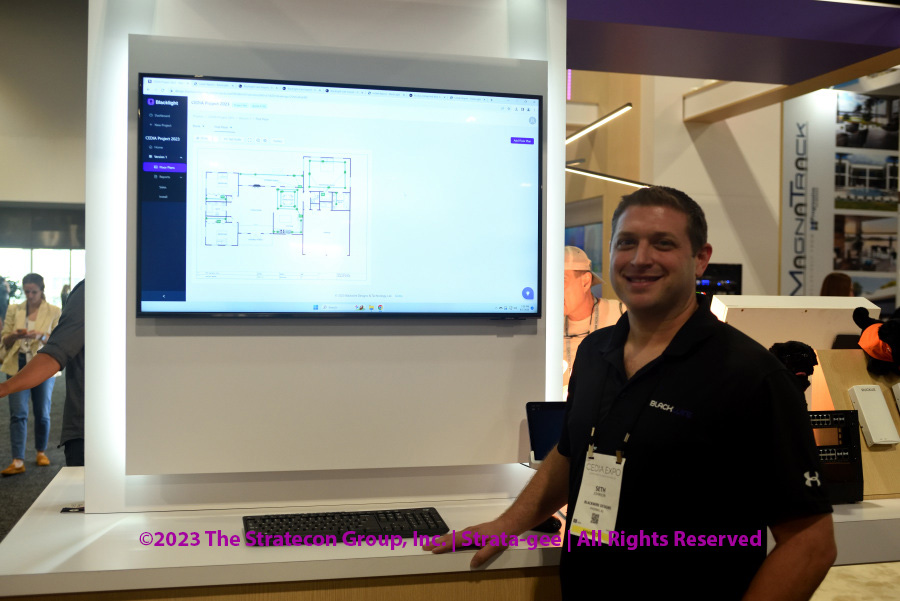 I actually saw much more than these, and I will share more of them in later posts. For now, you may get a sense that I was quite impressed with some of the offerings from the industry's vendors. Some of these items can make your life easier, open new markets for you, or add more profit to your bottom line.
What's not to love about that?!?!
See more on CEDIA Expo at cediaexpo.com.