Attendance at this year's CEDIA Expo, held in Denver at the Colorado Convention Center from September 7-9, was a bit of an illusion. The Expo, which is owned and operated by Emerald Expositions, announced final attendance figures nearly two weeks after the event closed. At the event, many exhibitors expressed satisfaction with the number of attendees they saw – yet the final announced attendance numbers turned out to be not quite as significant as some had thought. How did that happen?
See more on CEDIA Expo attendance figures
Leading up to this year's CEDIA Expo, I had previously reported that I was hearing rumors of a potential roll-off in attendance this year. Yet once at the event, attendance seemed brisk and up from the previous year. In fact, many felt it had increased substantially over the previous year's attendance of 11,946 verified attendees ("verified" is based on the number of badges actually picked up at the event).
Even I had suggested that attendance may be "well up" over the previous year, as the Day 1 crowd seemed substantial and major brand booths remained busy throughout the day – such as the Savant booth in the photo I took above. I spoke with several exhibitors, all of whom suggested attendance was well over the previous year and that they were finding it was a good and optimistic group of integrators with whom they were interacting at their exhibits.
This Year was Two Shows in One – CEDIA Expo and Commercial Integrator Expo (CIX)
This year, for the first time, Emerald Expositions launched a new show called the Commercial Integrator Expo (CIX) that was to be "co-located" with the CEDIA Expo. Co-located sounded like it was to be a separate event located elsewhere in the same exhibition center as CEDIA Expo.

As it turns out, the show was located in essentially the same space, basically at one end of the same exhibit hall that the CEDIA Expo was in. Really, the only difference was a different color of carpeting and some signage differences. Many of the attendees that wandered into CIX, weren't even aware that they had stepped into a completely different show…in theory.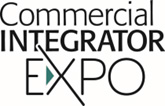 So keep in mind that this year there were actually two events taking place at the same time – CEDIA Expo and Commercial Integrator Expo. CIX is an all-new show designed to attract commercial exhibitors and integrators who also do some residential installations or the crossover business that Emerald likes to call "resimercial" (a designation I dislike). The show promoter also argues that this new event would also serve those residential integrators who also do some commercial installations as well.
Was CIX a Success?
If CIX was a success, it would be a great boost in attendance overall. But what did Emerald report?
Emerald announced that overall registrations for CEDIA Expo and CIX came in at 15,541 for the combination of both events. Of course, registrations don't really mean much, as many people register in advance and then decide not to attend.
The show's promoter also reported a "verified attendance" of 12,848 "industry professionals." Again, verified attendance represents those who came to the event and actually picked up their physical badges to gain entry into the hall. Note, that this figure represents everyone at the event, including integrators, exhibitors, booth workers, and other interested parties. This number is not just the number of integrators who attended.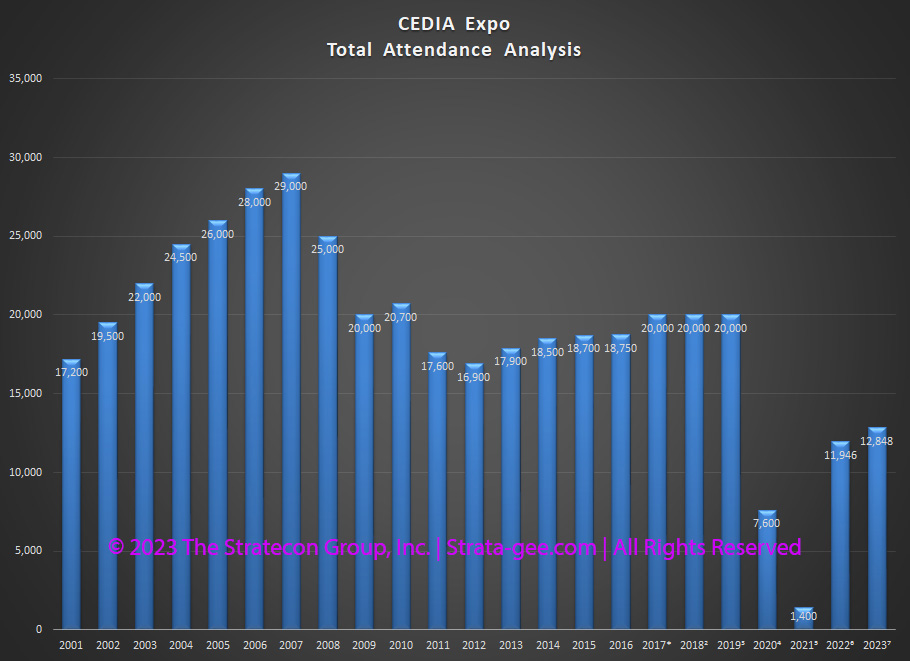 Overall Attendance Up 7.6% Over Last Year
That attendance level works out to be a 7.6% increase over last year. Emerald says attendees came from all 50 states and 21 countries, with 32% of them being first-timers at the CEDIA Expo and/or CIX.
I asked for the breakdown between those who came to Denver for the CEDIA Expo and those who came for CIX. A company representative told me that they will not break out those numbers, "…because of the nature of the event with a singular show floor and a combined/crossover audience."
7% More Exhibitors This Year; 88% More First-Time Exhibitors
Emerald also said that there were a total of 340 exhibitors in 154,400 net-square-feet of exhibit space. That represents an increase of 7% over the total of 317 exhibitors at the CEDIA Expo-only event last year.
Of those 340 exhibitors this year, 94 were first-time exhibitors. That is a more impressive increase of 88% over the 50 first-time exhibitors at CEDIA Expo 2022. But remember, this year we had a whole new show for commercial integrators added, with a whole new roster of commercial exhibitors, which may be why there was a greater increase in first-time exhibitors – every exhibitor at the first-ever CIX was a first-time exhibitor.
CEDIA Expo 2023 and Commercial Integrator Expo 2023 were bustling with industry professionals experiencing the newest tech and learning about trends in the residential and commercial audiovisual industry. An energy and buzz of excitement was evident on the crowded show floor!

Jason McGraw, Emerald's Group Vice President for CEDIA Expo, CIX, and KBIS
Numbers Not Impressive Historically, But We Are Coming Out of COVID
Historically speaking, these numbers are not impressive. However, to be fair, the industry is still recovering from COVID-19, which really did a number on the entire trade show industry. I have been tracking CEDIA attendance for a couple of decades and it is pretty easy to see the impact COVID had when it hit in 2020. Also, in 2021, when another wave of COVID came through, it greatly impacted CEDIA Expo 2021 with many vendors and attendees pulling out of the event.
The numbers clearly show we have quite a ways to go to get back to the previous CEDIA Expo-only average size of around 20,000 attendees and 500 exhibitors. But some kind of rebound is happening, if on a slower growth vector than Emerald and the industry would like.
CIX Did Not Have a Big Impact
It does not appear as though CIX had a big impact on this event – and the degree to which it did really just diminishes the CEDIA Expo performance. Still, attendance at CEDIA Expo/CIX was OK…especially as concerns about a washout did not come to pass.
Learn more about CEDIA Expo by visiting cediaexpo.com.
You can find out more about the Commercial Integrator Expo at expo.commercialintegrator.com.