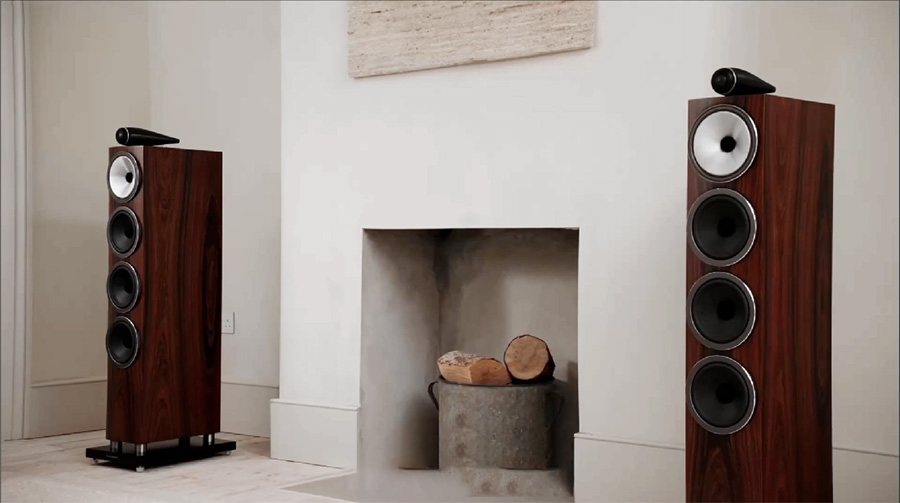 Bowers & Wilkins (B&W) announced today it has completely updated and upgraded its remarkable 700 Series line of loudspeakers, the line just below their renowned 800 Series Diamond, with no fewer than eight new models. And, as you might suspect, with this new 700 Series the company borrows liberally from the superior technology of its flagship 800 Series.
Learn all about Bowers & Wilkins new 700 Series
B&W says that this series refresh didn't just happen overnight. In fact, the company has been planning this redesign for no less than three full years. As a result, they say that virtually every element of the series has been "transformed." From cabinet design, construction and finish, through to key acoustic and mechanical improvements…nothing was passed over.
There are a total of eight models in the new 700 Series line, including three floor-standing models, three stand-mount speakers, and two dedicated center channel speakers for use in your home theater. It is an important update to a crucial part of their entire speaker line.
Some Stunning Upgrades
This new series replaces the Signature Series and there are definitely some stunning upgrades. First, I'll mention the cabinets. B&W is no slouch when it comes to gorgeous design and attention to detail – fit and finish is always first rate. And this new design 700 Series does not disappoint.
In a recent press presentation, we got a sneak peek at the new 700 Series design, in this case sporting a striking almost three-dimensional piano black gloss finish. Some of the changes were subtle but impactful.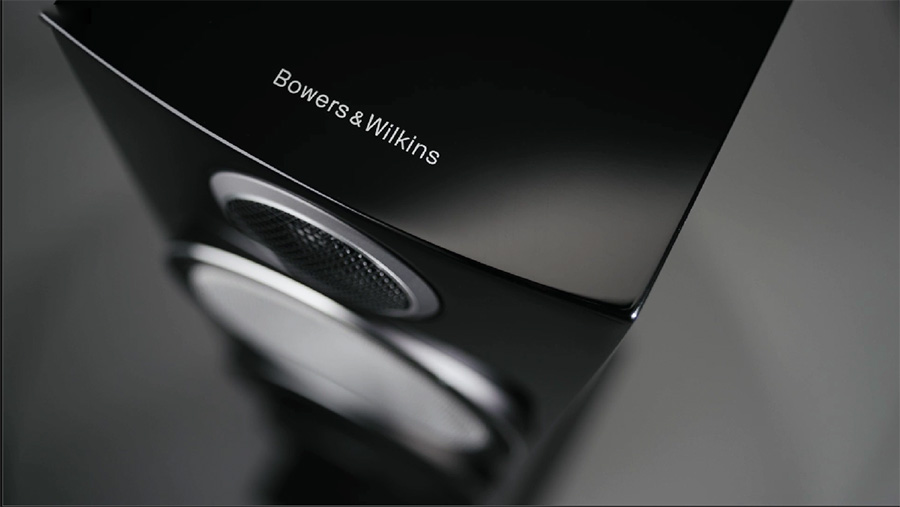 Slimmer with Curved Baffle is More Elegant
For example, this new design incorporates a slightly slimmer cabinet with a striking curved front panel. The company says this styling makes the speakers look more "elegant" and I wouldn't necessarily argue that point. The curved front is also said to improve the performance of the speaker by helping to minimize diffraction. Speaker drivers are mounted in what they call "pods" that help ensure a proper mount of the driver in the curved panel – one of the direct links from this series to the 800 Diamond Series.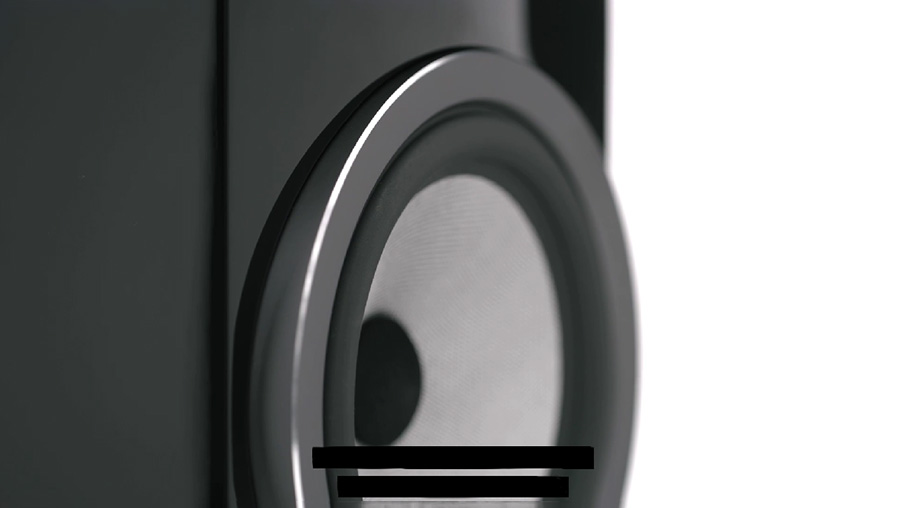 B&W has also launched a new finish they call Mocha. Mocha is an attractive highly grained wood finish that, to my eyes, looks really nice. This finish joins the previously offered Gloss Black and Satin White finishes to provide an option for most any customer. The company is also offering a fourth finish called Rosenut exclusively in the Asian and Pacific markets.
Tweeter-on-Top
Bowers & Wilkins fans will really appreciate this next feature – new to the 700 Series – the company's iconic solid body Tweeter-on-Top technology is now available in at least half of the series. The models in which this popular technology is available include: 702 S3, 703 S3 floorstanding speakers, 705 S3 standmount model, and the HTM71 S3 center channel speaker.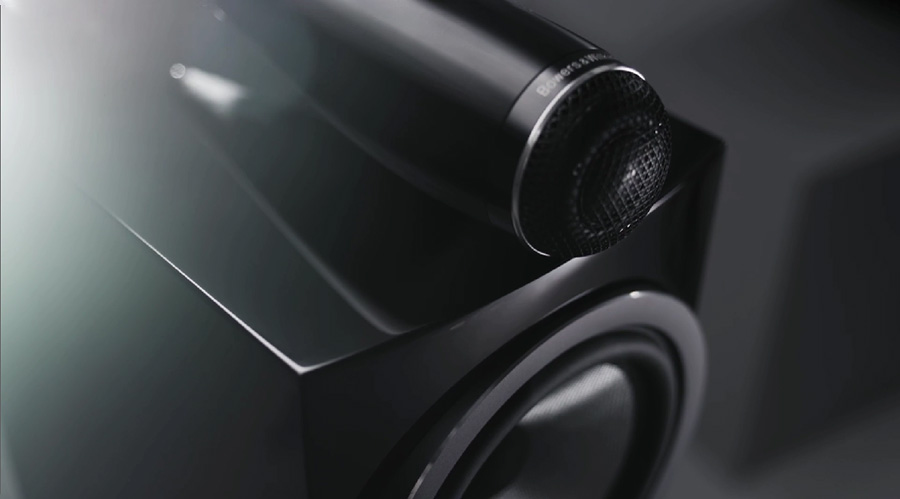 The company says that this version has been re-engineered for this series. Tweeter-on-Top is machined from a single block of aluminum (al you minny' yum, if you're English), and for this series has had its design "significantly lengthened". In so doing, B&W says distortion is reduced for an even cleaner presentation of the high end. The company also says it has added an improved two-point decoupling for better isolation of the Tweeter-on-Top from the main speaker cabinet.
This version of T-o-T uses the B&W Carbon Dome tweeter coupled to improved, vented voice coils with new upgraded magnets. And while this all means an improved Tweeter-on-Top performance, even the models with the tweeter mounted on the main baffle (707 S3, 706 S3, 704 S3, and HTM72 S3) benefit from this upgraded tweeter technology.
Another Trickle Down Technology from 800 Diamond – Biomimetic Suspension
All three-way models in this new 700 Series now benefit from a technological breakthrough originally introduced in the 800 Diamond Series called Biomimetic Suspension. B&W research engineers found a measurable benefit by replacing traditional fabric "spiders" used in almost all loudspeakers made today with the new Biomimetic Suspension system.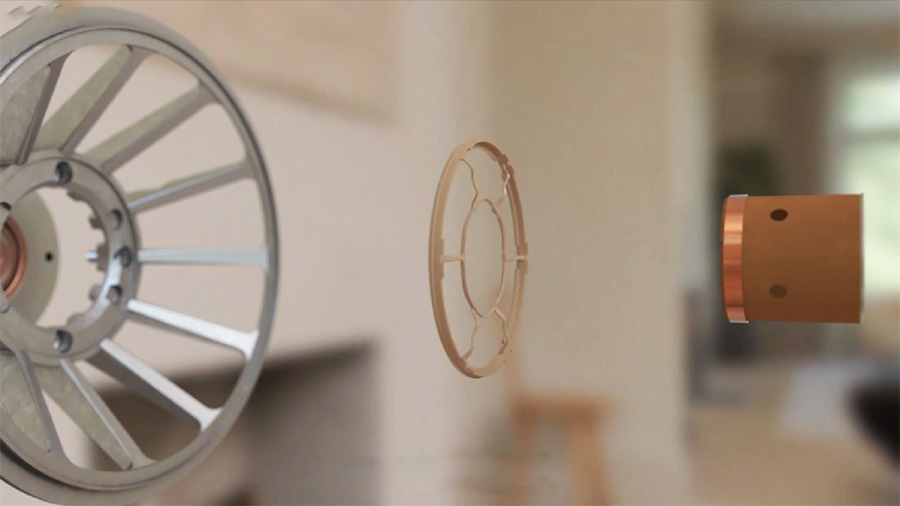 This ingenious design resembles, to my eyes, a microphone suspension system, but one in this case that provides all the same performance of a traditional spider with less mass. The traditional fabric spider could actually generate its own sound wave, whereas Biomimetic Suspension has less mass and surface area to eliminate that possibility.
A Lot of Technology to Achieve Midrange Transparency
Implemented in the midrange drivers, this new suspension system (new to 700 Series) is added to other Bowers & Wilkins proprietary technologies, such as decoupling the entire midrange assembly, an aluminum drive unit chassis featuring tuned mass dampers for reduced resonance, FST surround-less suspension, and Continuum cone material. The result of all of this technology is, according to the company, "simply astonishing midrange transparency."
The company notes that mid/bass drive units in non-three-way models have also been upgraded with new motor systems as well.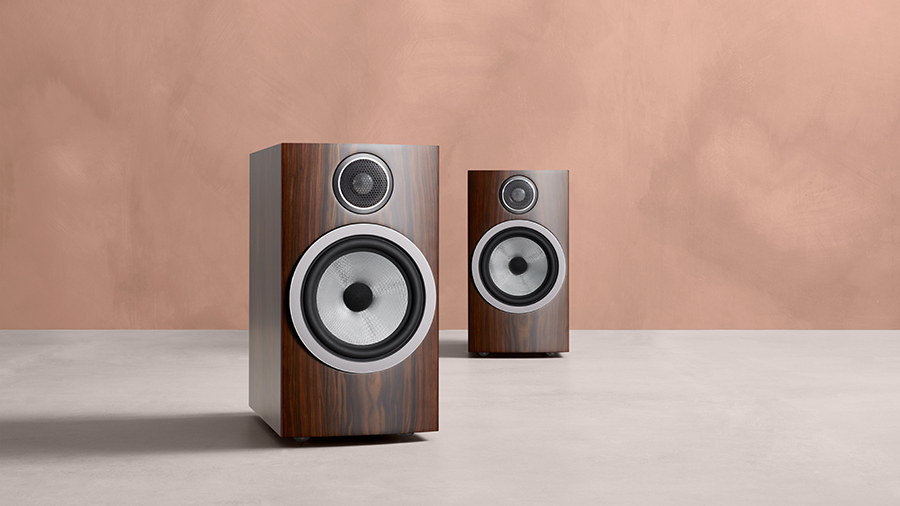 It Is All About the Bass?
The company hastens to add that bass drivers have also been updated, now incorporating the latest generation of B&W's Aerofoil Profile bass cone technology. This technology employs a composite "sandwich" of materials with a precision formed variable profile to deliver cleaner, lower distortion bass.
We're hugely proud of our new range. By introducing some of the reference-quality technologies of our 800 Series Diamond range into the latest generation of 700 Series, we've made studio-quality sound more accessible than ever.

The inimitable Andy Kerr, Bowers & Wilkins Director of Product Marketing and Communications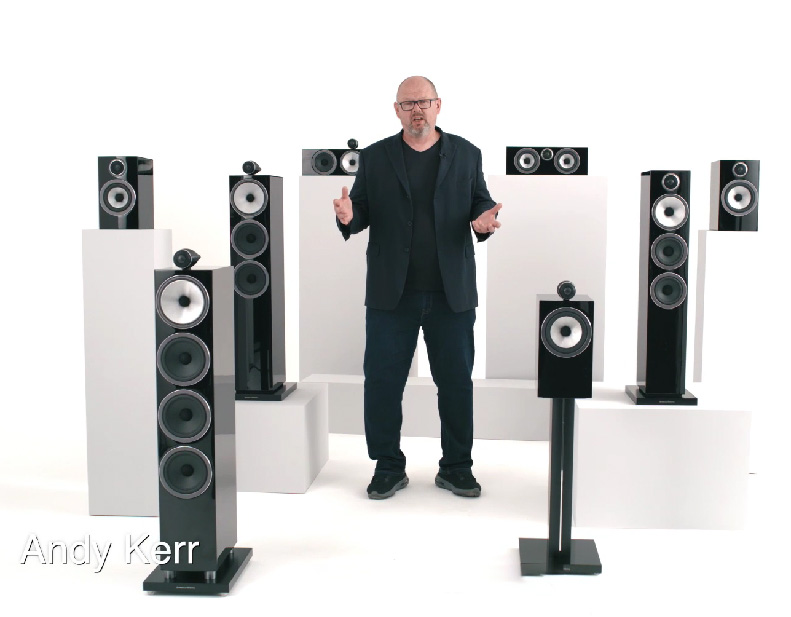 Every Stone Turned Over to Find Performance Optimization
B&W says it examined every element of the 700 Series loudspeaker design to find opportunities to optimize the performance of the entire system. For example, the speaker terminals have been upgraded to a design much like the 800 Diamond Series. This design offers serious-looking terminals that are more substantial and configured to accommodate spade-terminated cables for a better contact connection.
From these terminals, the signal enters an upgraded crossover with Mundorf capacitors, multiple bypass capacitors, and improved heatsinking. Ports (Flowports in B&W lingo) are a larger diameter now for more output – driving a bigger "and more expansive sound."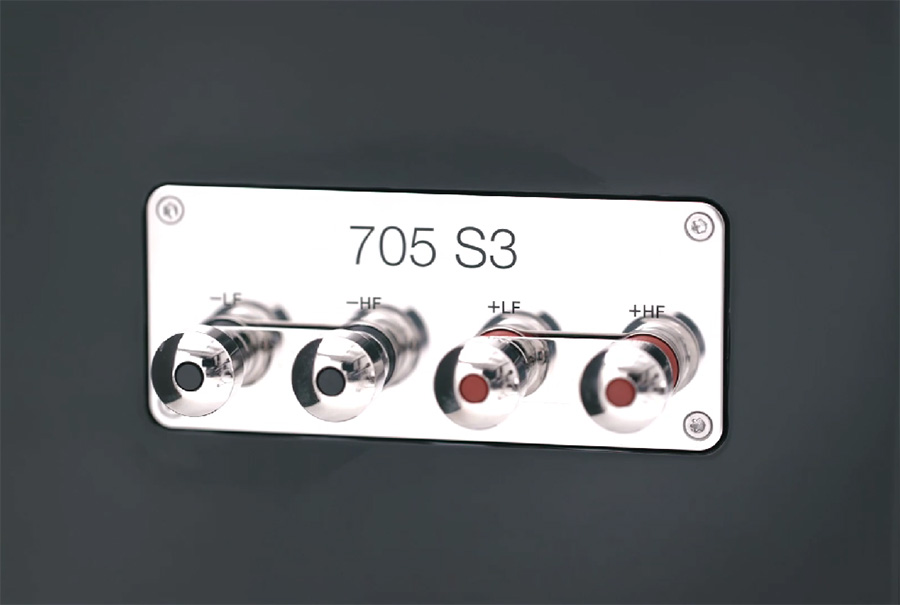 Speaking of Flowports, the new 702 S3 floorstanding model incorporates a new downward firing port – directing the sound down to a new plinth.
A Dramatic Upgrade Brings Near-Reference Quality to a Broader Audience; Now Available
From the images I've seen and the technical details that were revealed to those of us in the media recently, I'll admit it…I am impressed. By employing some of their top technology from the 800 Diamond Series into this more affordable 700 Series, it has never been easier for a broader audience to access the best of B&W technology.
The all-new 700 Series is available starting September 21, 2022… Yes, that's today. Finishes include Gloss Black, Satin White, and the new Mocha – with Rosenut available in the Asia and Pacific markets only. U.S. pricing is as follows…
| MODEL | TYPE | PRICE |
| --- | --- | --- |
| 702 S3 | Floorstanding, Tweeter-on-Top | $7,000/pr |
| 703 S3 | Floorstanding, Tweeter-on-Top | $6,000/pr |
| 704 S3 | Floorstanding | $4,000/pr |
| 705 S3 | Standmount, Tweeter-on-Top | $3,400/pr |
| 706 S3 | Standmount | $2,200/pr |
| 707 S3 | Bookshelf/standmount | $1,800/pr |
| HTM71 S3 | Center-channel, Tweeter-on-Top | $2,500/ea |
| HTM72 S3 | Center-channel | $1,500/ea |
| FS-700S3 | Floor stand | $800/pr |
Learn more about Bowers & Wilkins by visiting bowerswilkins.com.