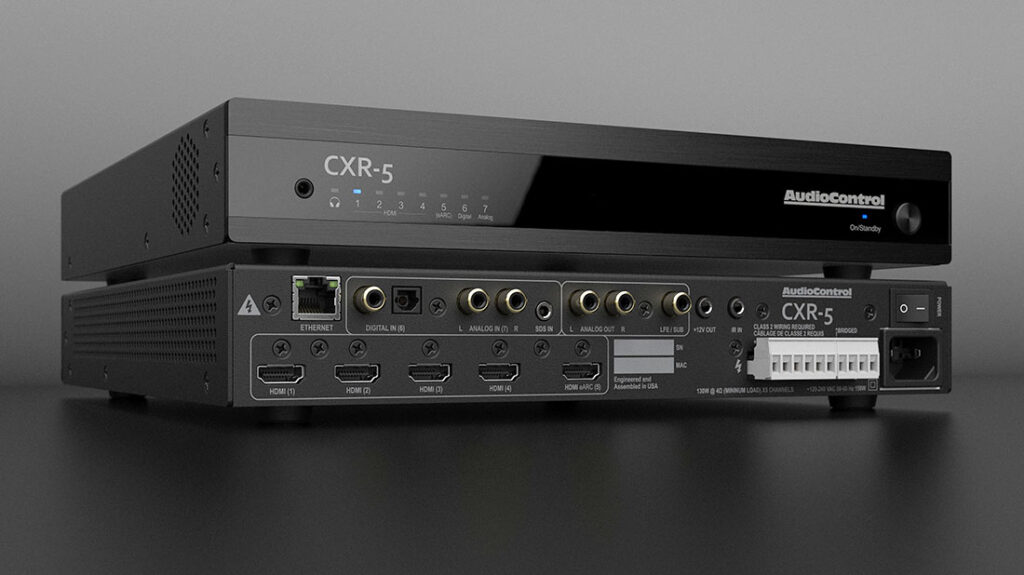 AudioControl Pro (AudioControl) is launching some interesting new products at CEDIA Expo 2023, including new min-chassis audio/video receivers (AVRs) and adding Dante network connectivity to a popular multichannel amplifier. In both cases, these products open up new opportunities and capabilities for integrators – a role the company has enjoyed for several years now.
See more on the new AudioControl mini-chassis
The company says that the idea for its new mini-chassis AVRs and Dante-enabled amplifier was based on market trends and feedback from its dealers. Especially in the case of the mini-chassis AVRs, dealers have told the company that there is a big opportunity for a small form factor AVR that allows clients to have surround sound capability in a second room apart from the main dedicated home theater or main home theater setup.
This trend has been noted by a few other manufacturers as well, but in AudioControl's case, these new mini-chassis AVRs may be small in size but are big in performance to deliver the premium performance level you've come to expect from the company. The company is introducing two models: the Bijou3 and the CXR-5. Both of these models will deliver Dolby Atmos for Home Audio and DTS:X Pro processing in any room.
Bijou3 and CXR-5A Mighty Mini-Chassis AVR Line
Taking up just 1U of rack space, the Bijou3 is undoubtedly a mini-chassis AVR. But it packs a mighty technological punch including incorporating Gallium Nitride (GaN) chipsets for a higher-performance, high-power amp platform. With three channels (L/C/R) of 100 watts per channel of power, the Bijou3 also includes a subwoofer output and two additional audio outputs for hookup flexibility.
The CXR-5 comes with five powered channels of 65 watts per channel of power. Like the Bijou3, it adds a subwoofer output and two additional audio outputs for added flexibility and provides up to a 7.1 channel surround sound configuration.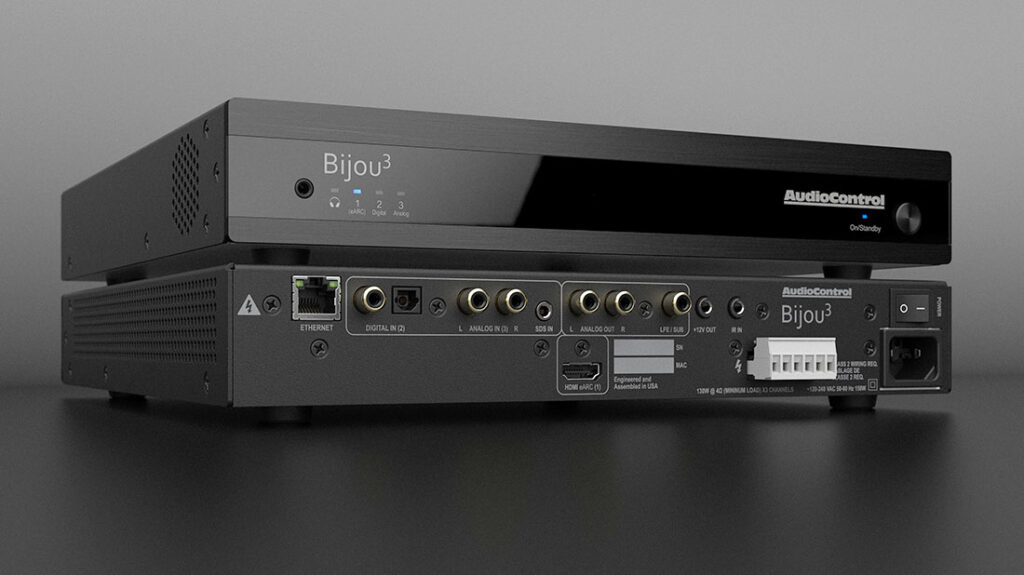 Small Form Factor Makes Them Perfect for Any Room in the House
With just a 1U size, these mini-chassis solutions can take up a tiny space in the equipment rack, or otherwise be mounted behind the flat-panel TV. It has never been easier to add multi-channel surround sound capability in any room in the home with a TV.

The company will also be offering Dirac Live room correction technology as an option. And integrators are going to love the fact that they can remotely manage the system configuration of these mini-chassis AVRs.
Clients are asking for a surround sound experience away from their main home theater – and these new mini receivers have been engineered to deliver superb performance in media rooms, bedrooms, workout rooms, home offices, and more.

Chris Kane, AudioControl VP of Sales
Director M6800D Now Speaks Dante
The company has announced that its popular Director M6800D multi-zone amplifier is now available with a Dante option that supports digital audio networking capability. The already popular M6800 amp is a 16-channel amplifier with onboard DSP and drivers available for top third-party control solutions such as Crestron, Savant, RTI, and Control4. I think it is about to get even more popular.
AudioControl says that all of these products show the company's unwavering commitment to providing the most advanced, high-performance entertainment solutions for professional A/V installers.
Learn more about AudioControl's full line of CI products by visiting audiocontrolpro.com.