Audio Control – the U.S. manufacturer of a unique line of solutions for mobile, home, and industrial markets – announced at the end of February that it has launched two new audio/video receiver (AVR) models called the Concert AVR-6 and AVR-8. These two new models replace the existing AVR-4 with upgraded construction and new capabilities, including support for 4K Ultra HDTV and 3D.
See more on this new AVR line-up from a long-time provider of unique solutions…
Audio Control is a company that proudly proclaims that they've been providing quality products for their markets for almost 40-years – a long and venerable history. We sold Audio Control equalizers many decades ago as add-on enhancement to then primarily 2-channel music listening systems. The company has grown over the years addressing many new categories.
Back in 2009, Audio Control entered the AVR market…seeking to offer primarily installers a solid alternative to the major brands. Built upon a solid power amplifier section offering 7 x 200 watts (AVR-8, 4-ohms, all channels driven), or 7 x 100 watts (AVR-6, 4-ohms, all channels driven), these new receivers are workhorses that fully integrate into today's home theater installations.
7.1…or 5.1 + 2…
Both models are a full 7.1-channels and both support HDMI Ultra HD 4K and 3D video pass-through and up-scaling. They can be also configured to alternately operate as 5.1-channel with the other 2-channels driving a second zone or sub-room.
As if to emphasize their Concert receivers are targeted at the custom integration channel, the receivers have a full complement of crucial connections, including: Ethernet, RS232, 12-volt trigger, and IR control options. They also feature 7 HDMI inputs, COAX SPDIF x4, Toslink x2, RCA Phono x6. There are also Component x3, Composite x4, and dual HDMI outputs that are ARC (audio return channel) compatible.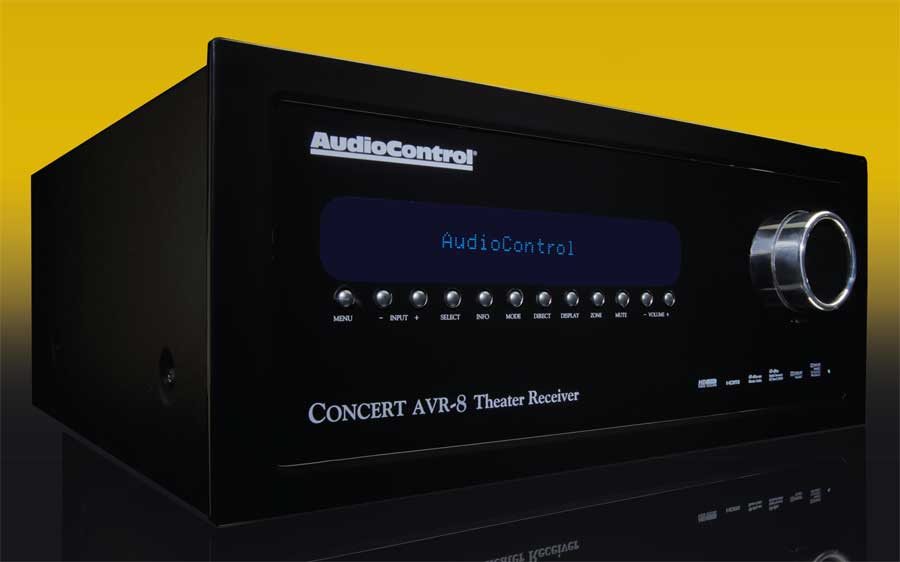 Here control…there control…everywhere control control…
Audio Control says their Concert receivers will integrate with top control systems including Crestron, Control 4, Savant, and RTI. The company also says the design provides for both rack mount and standard shelf installations.
As you would expect, the Concert Series AVRs include a full assortment of surround modes including Dolby True HD; Dolby Digital Plus; Dolby Digital EX; Dolby Digital 5.1; Dolby Pro Logic IIx; DTS-HD Master Audio; DTS-ES 6.1 Discrete; DTS-ES 6.1 Matrix; and DTS 5.1.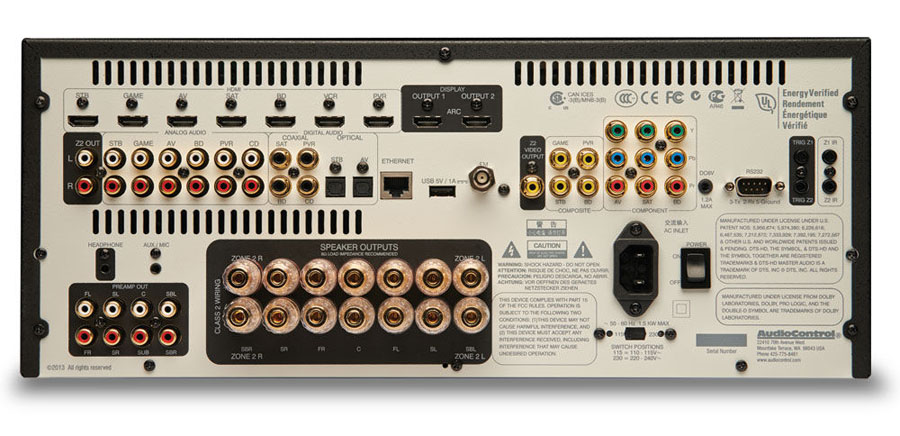 A full set of eyes…or I's…
The units USB connectivity supports memory devices and digital audio from iPod, iPad, and iPhone devices. The company has also included Internet radio and music streaming – including a fully integrated FM/DAB/DAB+ (in appropriate markets).
Audio Control includes a programmable remote control with the unit. And, as is popular with many users these days, the company also has a iOS Control App available for free on the iTunes Store.
"Audio Control has been at the forefront of designing and manufacturing high performance, quality audio and video products for nearly 40 years," said Audio Control CEO Alex Camara in a prepared statement. "Our new Concert receivers deliver an incredible audiophile experience, combined with the latest in 4K Ultra HD video processing, that results in the ultimate viewing and listening experience for movie lovers, not prepared to compromise on their passion for the highest quality entertainment experience."
Pricing & availability…
The new Concert AVR-8 and AVR-6 are available now and are priced at $6,000 and $3950 MSRP, respectively.
To learn more about Audio Control's Concert line, and their other products, visit: www.audiocontrol.com.